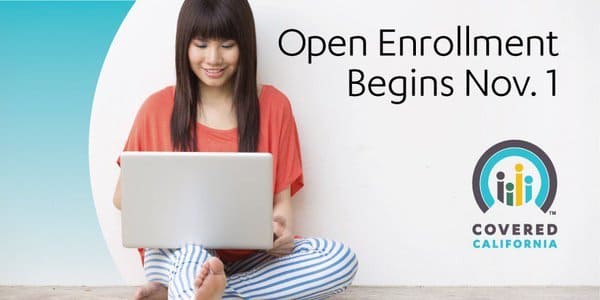 Open Enrollment 2024
Open Enrollment is from November 1st – January 31st. In order to enroll outside of Open Enrollment, you must qualify for special enrollment.
Looking for key dates for Covered California's Open Enrollment in 2024?
You've come to the right place! In this update, we'll provide you with the crucial dates for when open enrollment begins and ends, along with exciting news about increased benefits and financial assistance for the upcoming year.
In 2024, Covered California is bringing significant improvements to health insurance options for Californians. Enhanced Silver plans will offer considerable benefits, including lower copays, coinsurance, and the elimination of deductibles. This means qualified individuals can access care without worrying about upfront costs.
Here are some key changes to look forward to:
No More Deductibles: Starting in 2024, all three Silver CSR plans have eliminated deductibles. This simplifies plan selection and ensures easier access to medical care.
Reduced Drug Costs: Enrollees will benefit from reduced costs for generic drugs, making essential medications more affordable.
Lowered Copays: Copays for primary care, emergency care, and specialist visits have been reduced, making healthcare services more accessible.
Decreased Out-of-Pocket Maximum: A lower out-of-pocket maximum means lower overall expenses, even for those requiring extensive medical care.
In addition to these plan improvements, there's more financial help available:
Steady Monthly Coverage Costs: Most enrollees can expect consistent monthly coverage costs without unexpected hikes in 2024.
Decreased Monthly Expenses: Some enrollees will see their monthly expenses decrease, making healthcare even more affordable.
Enhanced Subsidies: The Inflation Reduction Act introduces enhanced subsidies, ensuring record-low monthly expenses for many Californians.
Zero Premiums for Many: Nearly 20% of enrollees will have no premium costs, fully covered by subsidies.
State-Legislated Financial Support: Californians earning up to 250 percent of the federal poverty level will benefit from new state financial aid, especially benefiting those enrolled in the Silver CSR plans.
These changes make 2024 a transformative year for health insurance in California, offering robust and affordable coverage options
Every year, Californians wait eagerly for the Covered California open enrollment period. This specific timeframe is pivotal for individuals and families who are looking to secure their health coverage for the forthcoming year. It's a chance to compare different plans, change your current plan, or enroll for the first time. But, what about those who miss the open enrollment window? This is where special enrollment comes into play.
Covered California Open Enrollment
The Covered California open enrollment period falls towards the end of each year, running from November 1st to January 31st. During this time, residents have the opportunity to explore various health plans offered through Covered California, the state's official health insurance marketplace established in response to the Affordable Care Act.
During open enrollment, you can compare health insurance options, including their associated costs and benefits. If you're already enrolled in a plan, this is your chance to make changes or reevaluate your coverage based on your current health needs or financial situation.
Keep in mind that once the open enrollment period closes, you'll be unable to make changes to your plan or enroll in a new one unless you qualify for the special enrollment period.
Covered California Special Enrollment
The special enrollment period is designed to accommodate life changes that may affect your health coverage needs outside of the open enrollment timeframe. Qualifying life events could include:
Losing other health coverage (like if you lose a job or turn 26 and can no longer stay on a parent's plan)
Getting married or entering a domestic partnership
Having a baby or adopting a child
Moving to a new area where different health plans are available
Becoming a U.S. citizen or gaining lawful presence in the U.S.
The special enrollment period typically lasts 60 days from the date of the qualifying life event. During this time, you can apply for health coverage or change your existing plan to better suit your new circumstances.
It's essential to notify Covered California of your qualifying life event as soon as possible and to gather any necessary documentation. For instance, if you've moved to a new region, you may need to provide proof of your new address. If you've had a baby, you'll need to provide a birth certificate or other proof of the birth.
In Conclusion
The Covered California open enrollment and special enrollment periods are critical windows of opportunity for securing the health coverage you and your family need. By understanding when these periods occur and what you can do during them, you can better navigate your health coverage options and make informed decisions.
Remember, health insurance is not just a legal requirement but a crucial investment in your health and well-being. By taking the time to understand these enrollment periods and acting promptly when they occur, you can ensure that you have the coverage you need, when you need it.
If you can answer yes to any of the following, you may qualify for special enrollment.
Within the last 60 days,
I Lost or will soon lose my health insurance.
I Lost Medi-Cal coverage.
I Lost my employer-sponsored coverage.
My COBRA coverage is exhausted.
I am no longer eligible for student health coverage.
I turned 26 and am no longer eligible for a family plan.
I turned 19 years old and am no longer eligible for a child-only plan.
I Permanently moved to California.
I Had a baby or adopted a child.
I Got married or entered into a domestic partnership.
I Returned from active military service.
I belong to a Federally Recognized American Indian/Alaska Native.
Became a citizen or obtained legal status.